Market Laboratory Inc.
CREATIVE SCIENCE. PRACTICAL SOLUTIONS.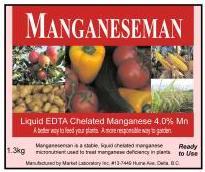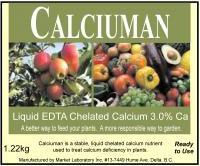 MSDS available upon request
Liquid DTPA chelated Iron 3.8% Fe
#13 7449 Hume Ave, Delta, BC. V4G 1C3 
Tel: (604) 591-7278 Fax: (604) 940-8302 email: marketlab@telus.net
 Technical Specifications  
Fertilizer's Act Reg No:                               970023B
Appearance:                                               dark brown solution
pH:                                                              7.5
Iron (Fe)(actual):                                         3.8%
Diethylene triamine
pentaacetate (DTPA):                                 26.4%   
Density                                                       1.27g/mL                     
Iron is essential for the formation of plant chlorophyll. Iron deficiency in plants is seen as yellowing of leaves (chlorosis). IRONMAN is a liquid DTPA chelated source of iron for plants. It is the preferred source of iron in BC greenhouses used for the production of tomatoes, cucumbers, and peppers, as well as flowering and tropical potted plants. May be added to other liquid fertilizers as needed. Registered with CFIA under the Fertilizers Act.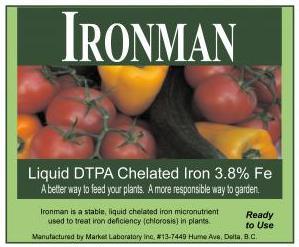 Distributed by TerraLink Horticulture